Celebrating the Festival of Lights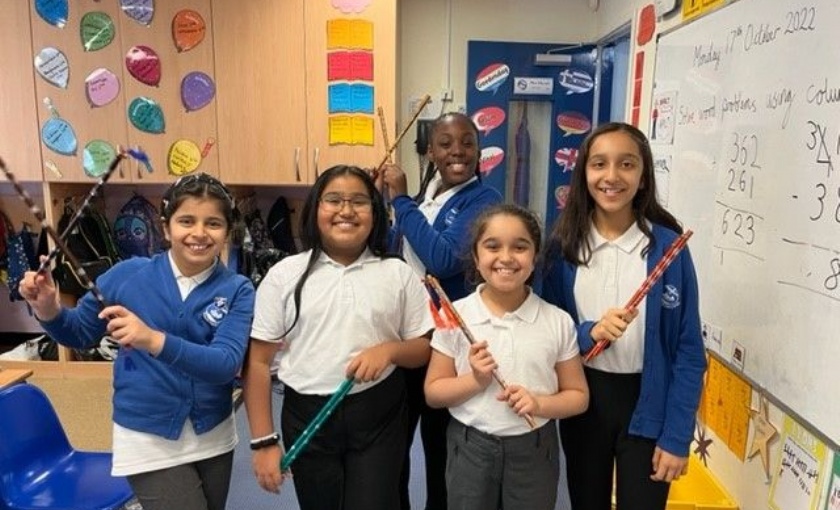 Last month, on Tuesday 18th October, a few children from Year 5 and 6 took part in a fabulous Diwali assembly. The narrators were Annisa, Harriet, Ishita and Sarah. They were accompanied by an amazing dance troupe which included Deeva, Mahi, Priya, Sia and Zara.
It was a fun-packed assembly -they looked at the meaning of Diwali, explored the celebrations around Diwali, showed a small film about how Annisa prepares for Diwali and they finally treated us to a brilliant performance by the dance troupe.
Did you know that Diwali is a five-day Festival of Lights, celebrated by Hindus, Sikhs and Jains throughout the world? The children in Juniors and Infants saw a video clip of the story of Rama and Sita and the triumph of good over evil and light against darkness.
The children gave us an insight into their own celebrations of Diwali and the New Year: spring cleaning and decorating the house with rangoli patterns, going to the temple, wearing new clothes, lighting diyas and candles and meeting family and friends to share delicious Indian food and sweets. Finally, a great way to finish a grand evening….having glistening and gleaming fireworks blaze through the sky!
Diwali is a fun, happy time spent with family and friend. We hope that, for those families who celebrate Diwali, they had a lovely time.