Parent Partnership
At Roxeth, we endeavour to provide a huge range of services and support to parents and carers in order to engage them in their child's learning as well as develop their own skills. Parents and carers are always welcome and encouraged as often as possible to share special moments in the school life of their children.
Throughout your child's time at Roxeth, you will have the opportunity to watch your child performing in assemblies, concerts and a yearly spectacular production. We also run a varied programme of workshops to help you to support your child's learning. We believe that education works best when it is a three way process with the child, teacher and you as parents. As research shows, parent's involvement in a child's primary education has a significant effect on educational achievement for the rest of their lives.
Other than these events where parents share and understand the learning process of their child, there are specific courses that we run which are for parents to enhance their own life skills. In the past, there have been ESOL (English courses) that the school has been running. This year, after taking into consideration the requests by parents, we are providing Maths and ICT skills courses. In addition, there are other services such as 1:1 confidential appointments and referral schemes that we have for parents as well.
Please do not hesitate to contact us if you have any ideas about the support you need to help your child and suggestions to strengthen our link even further. A parent suggestion box is kept at the Front Desk to give feedback and suggestions on how to improve various aspects of school life. You can also contact us on the following email address: parentpartnership@roxeth.harrow.sch.uk
Here are some Spring term dates for your diary for the parent events we have organised at Roxeth. Nearer to each event, further details will be given through text, emails as well as posters displayed around the school.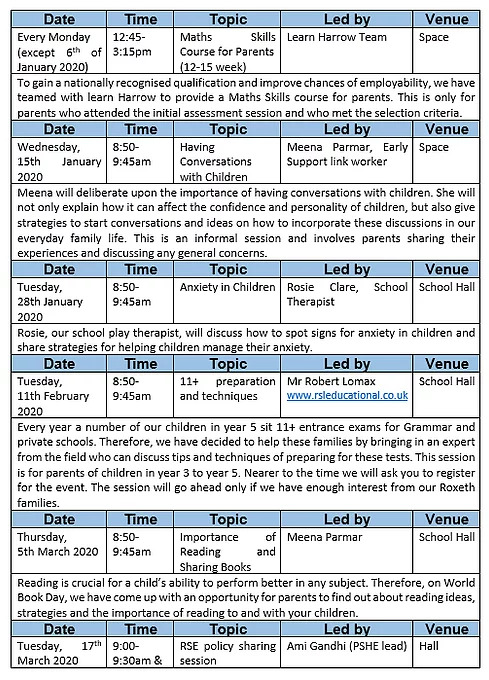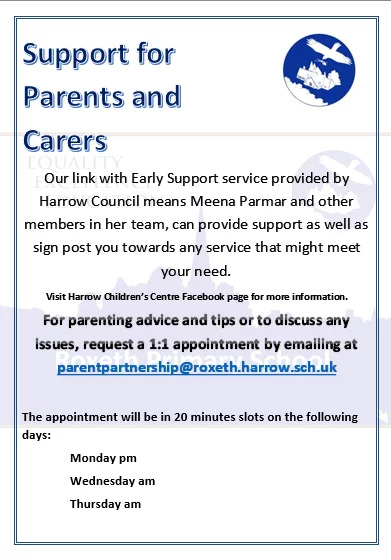 Past Events:
Here is a list of some past events that were organised during the Autumn term. You can click on some of the events to find out more in case you have not been able to attend them.
Thursday, 3rd October 2019 – 8:50-9:45am Parent workshop on the challenges of the New School Year and Services provided by Harrow Council for families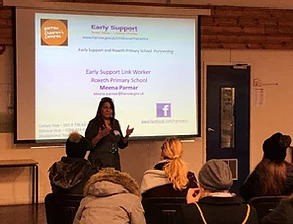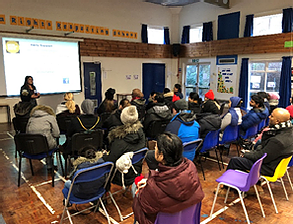 Tuesday, 8th October 2019 – 8:50-9:10 am and 3:40-4:00 pm Questions and Conversations regarding RSE and health education with our PSHE lead, Mrs Gandhi. A working group was formed after this session which involved representations from parents, staff and governors to develop the RSE policy. The policy will be shared with parents in the Spring term.
Tuesday, 15th October 2019 – 8:50-9:45am Coffee morning – Parents were invited to meet with the governors and the RSA. This was an informal session involving not only knowing and understanding the roles of governors but also elaborated upon discussions and sharing of ideas; all while enjoying a cup of tea or coffee and some biscuits.
Thursday, 17th October 2019 – 9:00-11:00am – Confidential 15 minute appointment based sessions for discussing any family issues with Meena Parmer from the Harrow Services. Appointments had to be booked beforehand. We provide these sessions from time to time to support parents and families in accessing services provided by Harrow.
Every Monday, starting from 11th November 2019 –12:45-3:15pm Maths Skills course for parents commenced after some Initial Assessment drop-in sessions. This is a 12-15 week course for adults to develop their mathematical skills for employability as the learners get a nationally recognised qualification at the end of the course.
Thursday, 7th November 2019 – 8:50-9:45am Parent Workshop on oral health and dental hygiene by Kim Eldridge. Click here to access the presentation.
Thursday, 14th November 2019 – 9:00-11:00am – 2nd session of Confidential 15 minute appointment based sessions for discussing any family issues with Meena Parmer from the Harrow Services.
Tuesday, 26th November 2019 – 8:50-9:45am Coffee morning with the RSA to volunteer and prepare with the RSA for the Christmas Fair.
Tuesday 28th January 2020 - 8.50-9.50am - Parent workshop. Support documents - click here
Book List: No Worries, Thr Woole Brain Child, Worries Are Like Clouds, Yes The Brain Child, The Koala Who Could, Have you filled a Bucket Today?, The Colour Monster, How Are You Feeling Today?, The Huge Bag Of Worries?