Year 6 football festival match report ​​​​​​​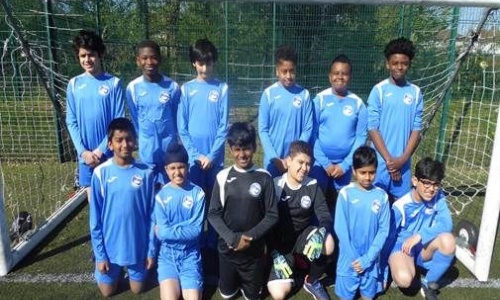 Mr Deanus and Mr Smith were delighted to be able to take the current year 6 boys to their first football tournament this year. After a number of training sessions, the children were finally getting the opportunity to test their skills against other schools in Harrow. Due to covid we have not been able to complete the league but Harrow set up an opportunity at the Hive facilities in Barnet on Friday 7th May.
The first match was against St Josephs who scored a goal in the first couple of minutes. Despite this early set back Roxeth continued to compete all over the pitch until half time. In the second half the game was close but St Josephs had a good move down the left that resulted in a goal. We lost 2-0 but I would like to mention Adam in goal who made some great saves during the match to keep us in the game.
The second match was against a very strong West Lodge team who had already won the previous match convincingly against another school. We defended really well throughout and eventually lost the game 2-0. You could see in the match that we were improving every minute and the boys continued to try their best, never letting their heads drop!
The third match was against Roxbourne. An excellent finish at the start of the match from the opposition made things very difficult to begin with. We were looking a lot more threatening with Ayo, Jahmar and Ilyas enjoying some more possession and opportunities in front of goal. Unfortunately, they again scored late on with another fantastic strike. We lost the game 2-0 but I could see we were getting better!
The last match was against Grange School. The boys started to play with more confidence and freedom right from the first whistle. Some great passing led to a wonderful goal from Arman who beat a defender and powered the ball home in the bottom corner. This gave us the confidence we needed just before half time. In the second half Banit scored the second goal sliding the ball past the keeper after a lovely through ball from Ayo. We eventually won the match 2-0! The children really enjoyed their first win and it was lovely to see them make progress with every kick.
The team's behaviour and conduct during the tournament was excellent and they showed real maturity and resilience to never give up. The team were as follows: Ayo, Banit, Ajaay, Ilyas (Captain), Martin, Shyam, Arman, Adam, Bijan, Mustafa, Jahmar and Thasvin.
The player of the tournament for Roxeth was Ajaay who made numerous last-ditch tackles in every match and worked extremely hard for the team. His tackling showed a great desire and commitment during the all the matches.
Thank you and well done to all the boys involved they were a credit to Roxeth Primary School.