Year 6 Girls Football Festival Tournament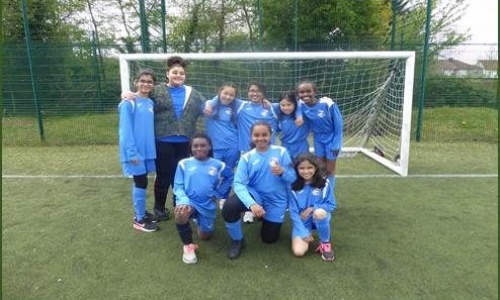 On Wednesday 6th May, the girl's football team were invited to attend a football festival at The Hive, Barnet. The team were really excited to finally get the opportunity to play in a competitive competition for the first time this year after several training sessions.
The first fixture was against a difficult St John Fisher team, who scored an early goal to take the lead. Roxeth showed their resilience however and put in a fantastic defensive display to keep the game at 1-0. The second half continued with more strong defensive work from the team. However St John Fisher scored 3 very quick goals to finish the game 4-0.
Despite the defeat the team remained positive and recognised the areas they wanted to improve on. This was put into immediate effect for the next match against West Lodge where Roxeth were able to enjoy a lot more possession of the ball. Despite our best efforts going forward with some nice spells of play from Louise and Hibba, we weren't able to break the deadlock. The game finished 0-0. Once again some excellent defensive work.
Our next match was against Cedars Manor. This was once again a very close match with Vanshi making some very important challenges. Although the game was very close, Cedar Wood managed to squeeze in a goal making it 1-0. The team tried to get back into the game however we just ran out of time, with the game finishing 1-0.
Our 4th match was against St Bernadette. Roxeth started the game on the front foot, with a fantastic run from Ramla down the left wing. She skipped past three of their defenders before calmly putting the ball into the back of the net. 1-0 Roxeth! St Bernadette started the 2nd half strongly and had some good spells of possession which lead to and early goal. Roxeth continued to attack in an attempt to get that winning goal but it was just not meant to be. The game finished 1-1.
In our final game against Pinner Wood it was fantastic to see how much confidence the team had gained throughout the festival. They were able to start putting the skills that they had learned into practise with some brilliant moments going forward and in defence. However we just couldn't get that winning goal. The game finished 0-0.
The team were as follows: Jenna, Vanshi (Captain) Aania, Joelle, Hibba, Jessica, Louise, Ramla and Hannah. The player of the tournament was Vanshi for her positivity throughout, desire to win the ball back for her team and making lots of very important tackles.