A League of their own!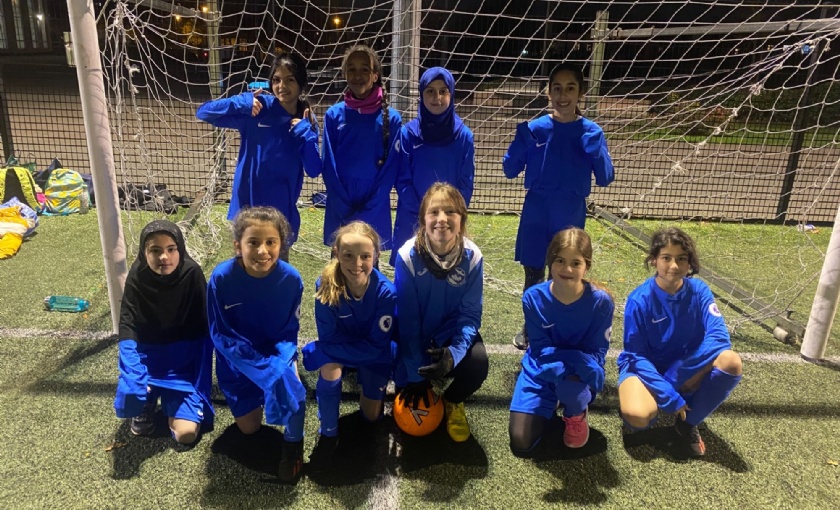 On Wednesday 7th December the Roxeth girls football team travelled to Whitmore to take part in three league games. Our first of three games was against Grange, the game started very quickly with the Roxeth girls attacking from the outset. After 2 minutes Bella made a fantastic run from the left wing to put us 1-0 up, this was quickly doubled by a neat finish from Sarah, 2-0 Roxeth! The game was now very much under Roxeth's control with Haneen adding a third goal and then Bella making it 4-0. Grange then managed to steal a goal back to make it 4-1. After a very strong performance Bella then managed to go on another strong run down the left wing to complete her Hat-trick and finish the Game 5-1 to Roxeth.
After such a strong first game the girls were feeling very confident going into the next match against Pinner Park. Once again Roxeth started on a very strong foot taking the lead early through Bella, she then scored a second in very quick succession making it 2-0. The lead was then stretched to 3-0 with another brilliant finish from Sarah and being topped off by Bella to complete another Hat-trick and finish the game 4-0.
The final match was against Vaughn Primary School. This game was very competitive with lots of strong tackles being made from both teams. This made it very difficult to create chances. We tried to break down the opposition with some brilliant spells of passing but neither team were able to break the deadlock and the game finished 0-0.
Well done Roxeth! After three incredible games the girls finished top of the league. Mr Smith is so proud of not only the football skill on show but also the teams incredible attitude even when playing in very cold temperatures…go team!
A huge congratulations to Kishi, Lilliana, Harriet, Iqra, Bella, Hanneen, Sarah, Sana, Saanvi and Safa.