Juniors Sports Day – Thursday 1st July 2021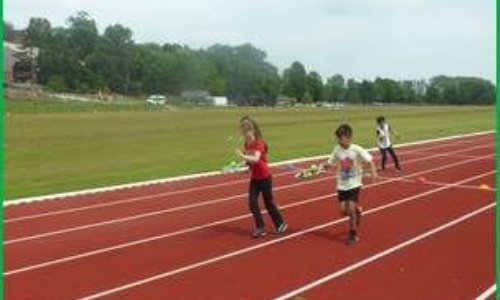 Thursday 1st July was the turn of KS2 to have their annual Sports Day. It took place at the Harrow School Athletics track and surrounding pitches on a surprisingly sunny morning.
Years 3, 4, 5 and 6 all performed amazingly across 7 different events, showing so much resilience and effort and wonderful sporting ability. The first event was a straightforward sprint relay – fastest team wins, but careful not to drop the baton! This was followed by another relay event which involved balancing a tennis ball on a racquet. Next up was our first field event: standing long jump into the sandpits. After this was an aiming event, where the children had to carefully aim their beanbag into hoops of differing difficulty to gather the most points for their House.
Over to the 3G pitches next for the traditional Sack Race which is always a lot of fun and then for the last Field event of the day: the Vortex throw. It's like a javelin throw but much safer! Finally, the last race of the day was a sponge squeeze relay which saw each child trying to squeeze out as much water into their House's bucket as they could in the time limit.
Thank you to all the staff who helped on the day, as well as the Year 6 Sports Captains who arrived early to help set up all of the events. Congratulations to all the children who competed for their House, trying their best and showing excellent Roxeth values throughout the morning.